WELCOME
This website is a commemoration of my 14km walk/jog in the 2012 City2Surf to raise funds and awareness for the Australian Pituitary Foundation.

With the help of
Everyday Hero
, I originally set up my fundraising webpage
with a goal of $1000. We successfully raised $1450 !
THANK YOU to all our supporters !
BEFORE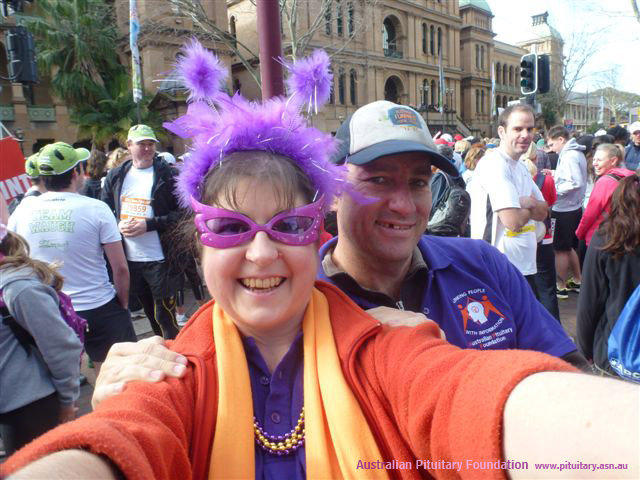 DURING
AFTER
AFTER AFTER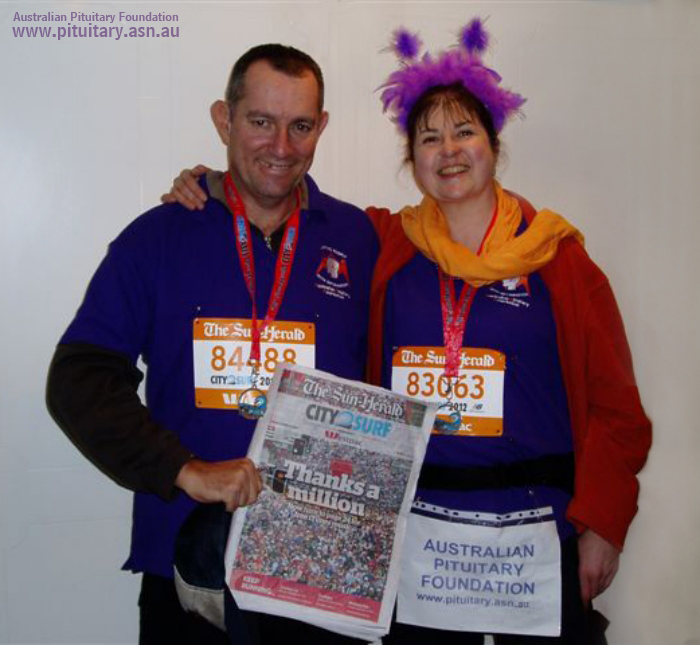 However Everday Hero has now closed all the 2012 City2Surf pages (as of 29-09-2012), to make way for future fundraising events. Therefore my original fundraising webpage no longer exists (It used to be located at http://www.fundraise.city2surf.com.au/kathryn_skelsey )
So, to enable people to continue to see the images and information that I had posted on my original webpage, I have recreated some of those elements here on this webpage.
And where will the $1450 go ? - The funds we raised from the City2Surf are likely to go towards a teleconferencing/ counselling project that the APF is developing to support APF members, and also a research database project that endocrinologists have started, which the APF would like to support. http://www.pituitaryresearch.com.au/
I walked the 14km, and was accompanied for some of the way by my partner Peter. Since I'm much slower than him, he went out ahead, then came back to meet me, and we jogged over the finishing line hand-in-hand !
Peter's and my RUNNING (WALKING ) TIMES can be found at;
Kathryn - http://fairfax.tiktok.biz/city2surf/2012/83063 (I walked it in about 3 hours - an improvement on my 2010 effort, by half an hour !)
Peter - http://fairfax.tiktok.biz/city2surf/2012/84488 (He jogged all the way in 1.5 hours. He was very pleased with his first City2Surf result!)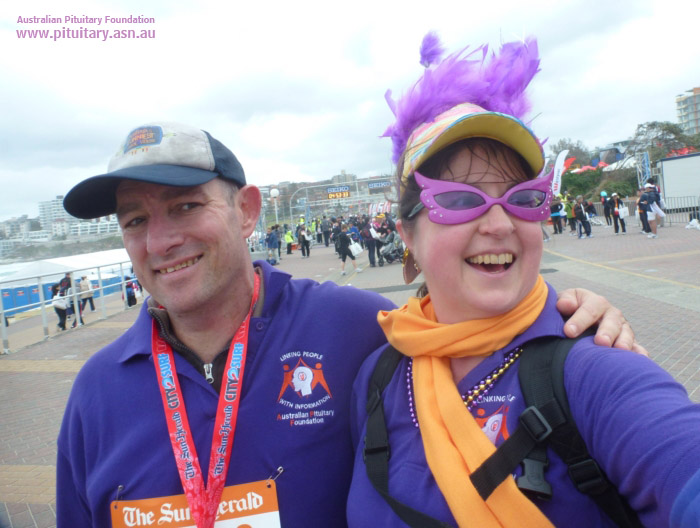 And you can see PHOTOS AND VIDEOS of Peter and I crossing the finishing line here;
Kathryn - http://www.marathon-photos.com/scripts/event.py?new_search=1&event=Sports%2F2012%2FCity2Surf&match=83063
Peter - http://www.marathon-photos.com/scripts/event.py?new_search=1&event=Sports%2F2012%2FCity2Surf&match=84488
As you can see I looked adequately silly to be noticeable, all dressed up in purple and gold, and hopefully I drew attention to the APF name and website that I pinned onto Peter and myself. I got compliments for my head pom-poms from a few people !
Note: The "Finish" video is better than the "Before Finish" video of each of us.
I've also posted photos on the APF's Facebook page;
http://www.facebook.com/APFpage
I'm thinking of doing another very short fun-run in November, as a new challenge for myself. The RUN4FUN will be held at Sydney Olympic Park on 4th November and I will be doing the 3km course; so it's very achievable, and I may even try jogging part of the way. (There is also a 10km course, which Peter could do.) If anyone from the APF would like to join me they are very welcome. I won't ask for sponsorship again, as I think people have been extraordinarily generous already, but it will be an opportunity to keep me on a roll with my training, and hopefully to keep inspiring others. http://www.run4fun.com.au/
For your entertainment too, you can view more photos and videos of the City2Surf, showing superheroes, gorillas, bananas and winners!
http://www.smh.com.au/sport/ - search for "City2Surf".
http://www.city2surf.com.au/ - go to the "Photo Gallery" tab.